Congratulations to our DSP of the Year Award Winners!
"Priceless fulfillment" is what David Oruko said he gains by helping others and seeing them smile through his work as an award-winning direct support professional (DSP) at Mosaic.
Oruko, of Delaware, joins Debra Main in Connecticut, JoDee Bryant in Kansas, and Lisa Behrens in Nebraska, as DSP of the Year for 2019 in their respective state. These Mosaic employees were chosen from nearly 350 nominations from organizations across the country.
The annual award is given by the American Network of Community Options and Resources, which works to help improve the lives of people with intellectual and developmental disabilities.
There's no doubt the work these four people do is life-giving and life-changing – for themselves and for those they serve.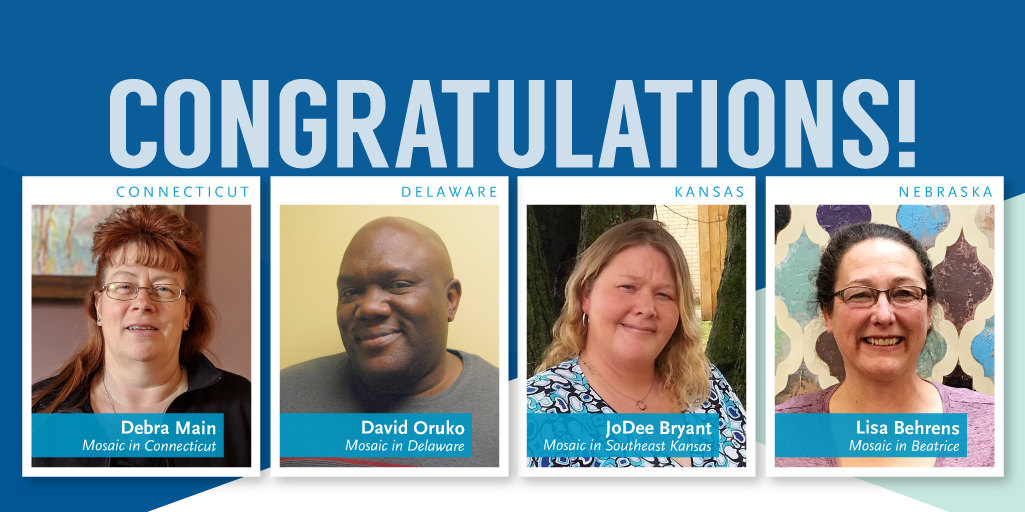 Oruko has been with Mosaic for almost 22 years and is a big advocate for the rights of the people he supports. As an example, at an annual planning meeting with people in other disciplines about someone David supports, he spoke up that the person supported should lead the meeting rather than a case manager. The young man led the meeting, and he eloquently expressed his own goals and dreams, only then allowing others to speak about his progress.
"Initially this used to be a job, " Oruko said, "but now it's just a part of my life. The individuals have given me so much that I consider them to be part of my family."
Debra Main, a 16-year Mosaic employee, has spent 15 years serving the same three women, so has developed deep, trusting relationships with them and is creative about meeting their needs and goals. When the women's home lost power in a blizzard, and nightfall was starting to bring colder temperatures, Debra arranged for a snowplow to clear the way for her to get the women to a hotel. There, she turned what could have been a scary experience into something fun by arranging a big pajama party and inviting others from Mosaic to join in.
Inspired to work hard by her father and family, Main finds joy in her job.
"I like helping people in their everyday lives," she said.
JoDee Bryant, who has worked as a DSP for more than 20 years, puts the people she supports first, even when it means she needs to move past her own comfort zone to help them succeed. When one of the ladies she supports wanted to share her personal story publicly, that meant JoDee had to stand with her in front of groups and help her. Public speaking was not something JoDee wanted to do. But she did it, and now the woman loves sharing her story – with JoDee's support – every month.
"I love to help people with learning different skills and to help them meet their goals," Bryant said. "Just to make their lives meaningful is my passion."
Lisa Behrens is the longest serving winner, working at Mosaic for more than 25 years and working with people with disabilities for nearly 35 years. She knows the job can be difficult, like when someone literally shuts the door on you. In those times, she remains persistent, knowing it's not personal. When a young man closed himself off from others, choosing to spend his days alone in his bedroom, refusing to interact or participate in anything, Behren's respectful persistence and patient firmness won him over. He now has made friends with the others in his home, socializing and enjoying activities with them.
"I feel Mosaic is a family-oriented place, and I have always loved working with my gentlemen and everyone on our campus," Behrens said. "I've always felt like part of a family, and we all want the best possible for our family."
DSPs are the heart of Mosaic's mission, and this annual award recognizes the vital role they play in the lives of people with disabilities.
Congratulations to these four winners!